Iraklis Dimitriadis
---
Arrivals of Albanian asylum seekers to the UK by small boats have elicited a good deal of political and public debate. Although an increase in asylum requests by Albanians has been a well-established trend since 2012 (Figure 1), media coverage of dangerous journeys across the Channel in the last year, and border policing enforcing immigration law, has fed narratives on the illegal nature of immigration. This has contributed to the criminalisation not only of newly arrived people, but of the entire Albanian immigrant community in the UK.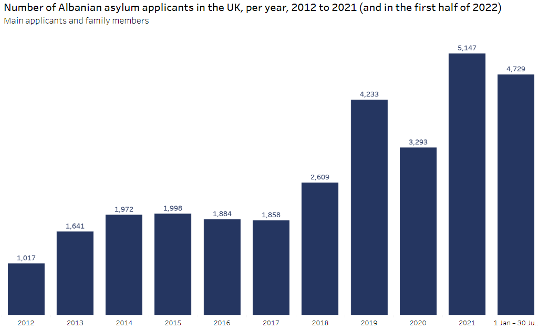 Source: The Migration Observatory
"Invasion on our southern coast", "illegal migration problem", "very harmful, serious and organised criminality" are only some of the phrases used by Britain's Home Secretary Suella Braverman and Home Office's representatives to describe (and criminalize) the arrival of Albanians, who made up the largest proportion of any nationality (28%) of arrivals to the UK in 2022. This vilification and demonization of Albanian people by some politicians and parts of the media are also promoted through a distinction between genuine and fake asylum seekers, as almost 85% of the Albanian arrivals applied for asylum. Depicting Albania as a "safe and prosperous European country", the British PM Rishi Sunak and members of his government vow to combat those "who are deliberately gaming the system", mainly targeting young male asylum seekers.
In examining why Albanian people engage in these risky crossings, this article shows that new arrivals should be seen as a part of the dynamics of Albanian migratory processes in Europe. These occur through different, and sometimes intertwined, times of crisis, as well as social problems and criminality at home and in other countries.
Albanian emigration from the 1990s to 2000s: three extraordinary events triggering the big "exodus"
Contemporary Albanian migration started after the fall of the Communist regime at the beginning of the 1990s. Large numbers of young male Albanians left the country (around 800,000 nearly – 25 per cent of the country's population at that time) to escape poverty and unemployment. They moved mainly to Greece and Italy due to their geographical proximity to Albania. Although some of those first migrants have been recognised as refugees (mainly in Germany, France and Italy), irregular migrant status was typical for the majority.
Two other crises triggered migration of Albanians across Europe. In 1997, the collapse of 'pyramid' investment schemes generated unrest in Albania, and the Kosovo war from 1998 to 1999 also precipitated movement. While the preferred destination countries among these migrants remained Italy and Greece, an increasing number applying for asylum were registered in Germany, Switzerland, the UK and Belgium.
Although irregularity of immigrant status continued to be widespread in both Italy and Greece, regularisation programmes and family reunification contributed to socio-economic integration. However, such advances were only temporary for many of them (particularly those living in Greece) due to the effects of the Great Recession on Southern European economies. As shown in the next section, the economic crisis of 2008 was a key unsettling factor that shaped subsequent migration routes and patterns.
Changing migration routes in 2010s: increasing mobility, return, onward migration and new destinations
The Great Recession can be seen as a historical event that reduced income and created unemployment and precarious employment conditions in sectors in which Albanian migrants had been employed in Greece and Italy. The construction sector was hit hardest, as analysed in my recently published book. Under these circumstances, many Albanian migrants engaged in different forms of migratory mobility. Those who had obtained EU citizenship (or long-term EU stay permit, to a less extent) have been able to migrate onward to Germany, Austria, Belgium and the UK (before the implementation of Article 50 TEU), facilitated by social ties to those already settled in those countries.
In contrast, Albanians without the possibility of access the formal labour market have been engaged in work trips to European countries, which enabled them to increase their incomes. Getting jobs in the informal economy, through networks of fellow nationals, was a solution to get by. Such movement, as well as seasonal migration and work across Europe, have been facilitated since 2011, after Albania's adhesion to Schengen Convention.
Another option for many unemployed and underemployed people was to return back home. This solution was most common among Albanian migrants in Greece. However, return to Albania was not always the final stage of their migration project but part of another journey. Return might be either a strategic option for individuals and families (e.g., to save money) before a new migratory movement was undertaken to a new European destination or, once again, back to Italy or Greece. A new migratory movement was often the result of difficulties in returnees' re-integration in Albania due to limited employment opportunities, poor infrastructure and corruption.
In this context, a new pattern emerged as a growing number of Albanians applied for asylum in EU member states (largely in Germany, the Netherlands, but also the UK), considering it as a possible entry channel in Western Europe. These people were from the poor segment of the Albanian population, whereas many of them were returnees (especially from Greece) who faced unemployment at home.
In light of the changing patterns and routes characterising Albanian migration, a more detailed account not only of the economic conditions but also of the social challenges in contemporary Albania can contribute to valuable insights on asylum seeking among Albanians in the post-Brexit UK.
Albanian asylum seekers in the post-Brexit UK: understanding complex migratory processes and the need for protection
Albania continues to be one of the poorest European countries and has the highest per capita rate of migration. According to the World Bank, in 2021, Albania's GDP per capita of $6,492.9 is seven times less than the UK's ($45,510.3). More than 50% of the Albanian population is at risk of poverty and social exclusion in 2020, while the rate of youth unemployment (aged 18-34) is estimated around 60%. Poor performance of the Albanian economy has been highly conditioned by the Great Recession (mostly indirectly due to the decline of migrant remittances from Italy and Greece).
Many people's incomes was also reduced because of the impossibility to engage to seasonal and circular migration in the period of the Covid-19 mobility restrictions. Limited social welfare support and weak public healthcare system, as well as housing problems, are some other factors impacting on socio-economic well-being, too. This image, of course, is in large contrast to narratives reproduced by some British politicians and media who represent Albania as a 'prosperous' Balkan country.
Under these circumstances, asylum seeking to the UK (and other European countries) can be seen as a way to access (precarious and informal) employment and accumulate financial capital (also through the daily allowance that asylum seekers receive) in the hope to access legal status, as recent research on Albanian asylum seekers in Germany shows. Asylum seekers can also create social networks perceived as potential facilitators of future work trips or migration. In this respect, it should be noted the significant role of the presence of a well-established and growing (due to the arrival of EU naturalised Albanians migrants from Greece and Italy) Albanian immigrant community of almost 140,000 in the UK in contributing to the perpetuation of migration.
At the same time, Albania cannot be readily characterised as a "safe country". Trafficking of persons into sex, forced labour and criminality constitutes one of the greatest scourges of contemporary Albania. Exploitation, abuse and coercion concern vulnerable people (women, men and children) from impoverished rural areas who can be also trafficked across Europe. UK-based Albanian-origin organised crime networks have particularly strong ties with criminal organisation in Albania. Moreover, blood feuds are considered another problematic aspect of Albanian society that still persist today, albeit to a less extent than in the past. Many men and boys are exposed to risks when some of their family members commit a crime against another. The family of the victim may seek to harm or kill a member of the murderer to avenge honour. Another issue is that, although LBGT+ and ethnic minority rights (e.g., Roma) are secured by Albanian law, actual implementation and acceptance of diversities in the socio-economic sphere are not always guaranteed. Trafficking, blood feuds or discrimination give rise to people's need for protection – unaccompanied children included as recent research reveals.
Increasing numbers of Albanian asylum seekers may also reflect some Brexit effects on asylum policies, interstate relations and economy. The fact that the Dublin Regulations no longer apply to the UK means that asylum seekers cannot be transferred to the first country of entry. In other words, once asylum seekers enter the British territory, their application has to been examined by the British authorities. Long waiting times to receive an initial answer (at least two years for two-thirds of the applicants) (see also contributions by Blitz in this special issue) can be seen as a way to accumulate resources (e.g., income, acquaintances with other migrants and employers).
Second, weaker links and information sharing between British and French authorities mean that accessing data and, consequently, making decisions on Albanian asylum seekers have become more complicated. Third, labour market shortages in the post-Brexit period can be seen as an opportunity to move to the UK (see contribution by Gawlewicz et al in this issue). All these aspects can be well-known to potential asylum seekers through social media.
All in all, high rate of positive decisions on female asylum seekers' applications, and in general, higher acceptance rate than other European countries (regardless of people's demographic characteristics) may shape people's decisions to seek protection in the UK. In this respect, rejected asylum seekers in France and Germany who are not deported might also be among those who would again try to apply for asylum.
Albanian migrants and refugees in the UK, the effects of criminalisation, and the need for future research
The presence of Albanian migrants and refugees in the UK can be therefore seen as the result of various factors and complex processes throughout different periods of crisis and across multiple localities. The Kosovo war at the end of the 1990s, the naturalisation of Albanians as EU citizens, unemployment in Southern European countries due to the Great Recession, persistent socio-economic problems in Albania, but also the Brexit and COVID19 pandemics all have contributed to the formation of an established Albanian immigrant community in the UK and increasing arrivals of asylum seekers in the last years.
Yet, incendiary xenophobic rhetoric leads to the criminalization of the whole Albanian community in the UK and creates a hostile environment for asylum seekers, which can result in unfair decisions on deportations. (see also the contribution by Reynolds et al, in this special issue). Even in the case in which asylum seekers are not victims of trafficking, blood feuds or discriminations in their homeland, demonization discourses contribute to further marginalisation and social exclusion of poor people who live without dignity in a country that is prosperous. Such narratives can be seen as a way to justify failures in migration and asylum governance and justify asylum policies (e.g., the UK's plan to send asylum seekers to Rwanda) that constitutes a breach of human fundamental rights (see contribution by Blitz in this issue).
Overall, a couple of recent and ongoing research projects on Albanian migration in the UK should be just the beginning of a new research agenda, as there is a need for more comprehensive and deeper insights into contemporary Albanian migratory processes in the UK.
---
References
Dimitriadis, I. (2022). Migrant Construction Workers in Times of Crisis. Worker Agency, (Im)mobility Practices and Masculine Identities among Albanians in Southern Europe. Palgrave Macmillan Cham. ISBN: 978-3-031-18797-1. https://doi.org/10.1007/978-3-031-18798-8
Gëdeshi, I. & King, R. (2022). Albanian Returned Asylum-Seekers : Failures , Successes and What Can Be Achieved in a Short Time Albanian. Journal of Balkan and Near Eastern Studies, 24(3), 479–502. https://doi.org/10.1080/19448953.2021.2015657
Gemi, E. & Triandafyllidou, A. (2021). Rethinking Migration and Return in Southeastern Europe. Routledge. https://doi.org/10.4324/9780429344343
Keskiner, E., M. Eve, & L. Ryan (Eds.) (2022). Revisiting Migrant Networks. Migrants and their Descendants in Labour Markets. IMISCOE Research Series. Springer, Cham. https://doi.org/10.1007/978-3-030-94972-3_1
King, R. & Gëdeshi, I. (2020). New trends in potential migration from Albania: the migration transition postponed? Migration and Development, 9(2), 131–151. https://doi.org/10.1080/21632324.2019.1608099
---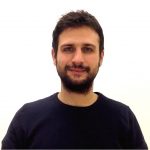 Iraklis Dimitriadis holds a PhD in Sociology and Methodology of Social Research and works as post-doctoral researcher and adjunct professor of the course "Welfare and Immigration" at the Department of Sociology and Social Research of the University of Milano-Bicocca. His current research focuses on the effects of digital labour platforms on informal work, while in the recent years he developed research on migration governance and asylum crisis in Italy at the local level, labour migration and integration in the EU. He is the author of the book Migrant Construction Workers in Times of Crisis published with Palgrave MacMillan. He is part of the editorial board of the journals Frontiers in Sociology and Mondi Migranti.
---
Header Image Credit: Flickr – www.istockphoto.com/ (under Licence) by Dragon Claws
---
TO CITE THIS ARTICLE:
Dimitriadis, Iraklis 2023. 'Albanian migration to the UK: changing migration routes in turbulent times and the criminalisation of asylum seekers' Discover Society: New Series 3 (2):